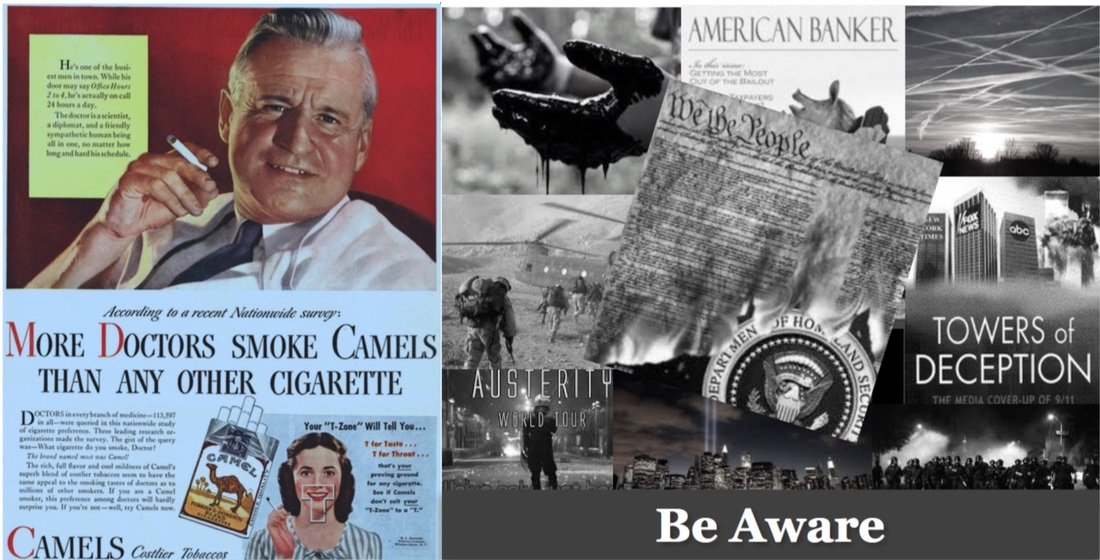 Cognitive Cleansing
August 2016
The term "conspiracy theories" has been with us since the 1960's, it was coined to deliberately stifle any questioning of government. More often than not, though, theory becomes reality.
Outlined below are over 70 government/media coverups and/or conspiracy realities that began as theories. Many were initially supported by science in peer reviewed journals and by no means is this an exhaustive list:
Tobacco, asbestos, Thalidomide, Vioxx, methyl-mercury, lead paint, the Manhattan Project, Watergate, Karen Silkwood
Marijuana and hemp deceptions, radiation exposure, DDT, PCB, pesticide safety
EPA declaring air safety following the 9/11 building collapses
Cancer and birth defects following the use of Agent Orange and depleted uranium
Operation Northwoods, Operation Mockingbird, Operation Paperclip, Project 112/SHAD, Tuskegee Syphillis Study, CointelPro, Iran-Contra, Project MKULTRA, Gulf of Tonkin incident
Dr Ignaz Philip Semmelweis - hand washing before surgery
The sinking of the Maine and the Lusitania, the USS Liberty, the Gulf of Tonkin
The financial crash of 2008 (the housing bubble), derivatives, banker bailouts the LIBOR scandal, offshore banking
H1N1 (swine flu) the false flu pandemic of 2009, Rumsfeld and Tamiflu, Rumsfeld and Aspartame, Crimes of Bayer Aspirin
CIA redactions, renditions
Indefinite detention provisions of NDAA, Monsanto Protection Act, Obama signs Dark Act, The Patriot Act
Torture, drones, Weapons of Mass Destruction, nuclear testing
Fukushima suppression, Bill Clinton's flights to "Fantasy Island"
Church Report #21: CIA assassinations, staged accidents, development of the "heart attack" gun and more
The Sick Rituals of Bohemian Grove performed by our leaders, and other secret societies such as Skull and Bones and the Freemasons.
Many people find it a stretch to consider that media and government are intentionally deceiving us. Considering the relentless cover-ups and lies that we now know to be true, I find it a stretch not to.
The above
list of conspiracies/
cover-ups and scandals does not include several more that are still in process and remain unresolved including:
JFK, MLK, Bobby Kennedy and Malcolm X
The Warren Commission, the 9/11 Commission
Hundreds of questionable suicides and car accidents of scientists, bankers and holistic doctors
NAFTA, TTIP, TPP, TISA
Prosecution of whistleblowers, 9/11 coverups , the War on Terror, Homeland Security, police brutality and intimidation
HAARP, chemtrails
Fluoridation of water, MMR vaccine and autism
Staged terrorist attacks, media corruption and…
The list goes on and on.
Reason and logic are continually being thrown under the bus while unsupported positions taken by the status quo are never seriously questioned or challenged. Imagine the collapse of 3 skyscrapers into their own footprint, symmetrically, even though no steel building in human history has ever collapsed due to fire. On 9/11 three buildings did and one building — Building 7 -- was never hit by an airplane. Although fires from airplane fuel never generate temperatures hot enough to melt steel, molten steel flowing like lava was discovered in the rubble
months
after the collapse. Nanothermite particles have also been discovered in dust samples taken from the 9/11 crime scene. Dr Judy Wood baffles us further with
disappearing steel beams
and still no one investigates. And contrary to forensic procedure, the crime scene was disrupted when all the steel columns that remained (the primary evidence) were
cut up
and whisked away almost immediately and no one was held accountable.
Today, 40 billion is spent annually on Homeland Security and billions more is spent fighting terrorism around the world, yet according to the
Washington Post
"You're more likely to be fatally crushed by furniture than killed by a terrorist." With almost no measurable terrorist threat how will we ever spend 40 billion dollars a year?
Staged disaster events are being conducted all over the country. That will spend some of the money.
Vermont is set to receive $570,000 for ten days of disaster reenactments
. Although 95% is a waste the
TSA also spends 7 billion annually.
But where does all the rest go and what about billions more for foreign military engagements?
The Pentagon cannot account for 6.5 trillion dollars.
Does this surprise anyone? We are awash in lies, theater and cover-ups.
At a time when it takes forever to get "a trickle" of money from the government to address human needs, an avalanche of money is instantly and unaccountably available to kill our own species whenever the word "terrorist" is mentioned.
Become your own person. Apply your own reason and logic to what you are being told. If you look at things objectively and with an open mind it will become obvious almost instantaneously - our perceptions are being managed and our opinions are being engineered. Most of the time we are instructed by MSM to not see beyond the lies or deceptions which are often not supported by evidence or very loosely-constructed associations at best.
I know it is horrible to contemplate that your country is capable of such lies, deceptions and heinous crimes against its own people but think about constant US invasions, 830 US military bases around the world and a police force that is becoming more militarized and gestapo-like. I believe that the evil doers rely upon American ignorance, naivety, apathy and a disbelief that our government would ever deliberately kill its own. It is Germany all over again as we-the-people have chosen self-deception and illusion. We are
unable
to fathom or accept that we belong to a government capable of such depravity, because if we do — we are guilty - we are culpable too. So we go along with the
big lie
at our own expense.
THiNK when a deer is run over on the road the vehicle is usually covered in blood, yet in Nice, France a white tractor-trailer mows down 80 people and critically injures 18 more, yet there is no blood, nor tissue residue on the bottom of the vehicle, nor any conclusive video evidence of this tragedy. People are seen running away and that is it. Where is the proof that
these people existed
before these tragedies - the personal histories, the pictures in family albums, the grade school records, high school and college yearbooks, employment records? And where is the proof of death afterwards - their names, obituaries, wakes, funerals, payments of last respects by family and friends, media interviews? Where is the coroner's report, the death certificates and hospital treatment records? Why has an autopsy never been requested? Where are the cell phone pictures or video images from any of the security cameras? Why is it that the main perpetrator is always killed, never talks and is always a Muslim? Were crisis actors employed at that site? Why are questions like this never asked, never addressed and most certainly never answered?
It would seem that before billions more are spent, more countries are invaded and more people are killed the people should KNOW absolutely that these heinous crimes actually occurred and by whom? There should be no room for anyone to ask ... A horrible and heinous assault against humanity or staged terrorist attack?
Allowing these questions to go unanswered defines our country, those that run it and
those that accept it without question.
Many of the shadow elite hide their evil depravity behind masks of
love and kindness
. Behind these masks are monsters who pay homage to the darkest of forces and who will readily kill any and all who dare to expose them.
We need to go deep, beyond "
move-on.org
"
progressives. In my opinion these people are worse than Republicans for they give progressive thinkers the illusion that change from within this systemically corrupt, bogus, two-party system is actually possible. This belief keeps millions of Democrats in the fold, dancing by design to this 'old boy' status quo system and this song of death. Over and over, round and round we go, expecting that the next election cycle will somehow be different than the last.
Eight years of Bush and then eight more years of the same with Obama.
Now empire is presenting us with Hillary and Trump. Will we ever learn to think differently?
By any measure the Israelis are committing genocide against the Palestinians and what are we doing about it? We're supporting them! In fact we've become a military extension of the Israeli government. We're neutralizing their enemies in the Middle East, funding war criminals, staging false flag terrorist attacks and letting
AIPAC
dictate US foreign and domestic policy. Netanyahu is a war criminal along with several counterparts in the USA who sit on both sides of the isle. Yet MSM refuses to expose these atrocities because they are willing partners in massive deception that is equal to or surpasses Nazi Germany.
We invaded Iraq killed millions destroyed a culture and never so much as apologized. We removed dozens often of democratically elected rulers who did not want to play ball with our multinational corporations and forced them out often by military interventions. We the USA are the world's bully the harbinger of death, secrecy fear, oppression and censorship.
We are not talking about a few bad apples here. We are talking about gangrene. I cannot think of
one
big corporate entity, nor o
ne
regulatory branch of government, nor
one
media giant that is not knowingly sacrificing human health for profit on almost a daily basis. Can you?
Imagine a world with no US military interventions. Imagine if thousands of energy patents were released and free energy was made available to the public. Imagine if your food was available pesticide free and properly labeled. Imagine if your money was placed in pubic banking institutions that did not charge obscene interest rates nor gamble away your money and whose owners were made public. Imagine a press that was dedicated to humanity — not to corporate monopolies. Who is stopping this from happening? It sure ain't the people.
The good news is that this evil empire
is
collapsing. New ways of thinking are beginning to replace this old materialistic survival-of-the-fittest mentality. This old mentality has enabled billionaires and trillionaires to control the world based on a system of fear, greed, secrecy, exploitation and death. The bad news is that they will not let go of this model without a fight and the battleground is between your ears and in your hearts.
The faster we take personal control of what we think and how we feel, the faster change will occur. Let there be no doubt — change
is
happening. This movement cannot be stopped. You see — once you become aware, you can never become unaware. The thought revolution has begun, our numbers are growing, global consciousness and awareness are now sweeping the world. Cracks in the foundations are appearing everywhere. Redacted pages in the 9/11 Commission Report, Warren Commission disclosures, vaccine safety, the CDC's and the WHO's integrity are now being questioned, the light has begun to shine on the United Nations,
Agenda 21 and depopulation
, pedophile rings reaching into the Vatican and the highest echelons of government are being exposed constantly.
Censorship, the militarization of the police and staged terrorism are reactions by the status quo to a world waking up to its own imprisonment. No longer is it about who can rain the most death on the most people and immobilize the masses with secrecy, fear and a gestapo-like police force. This model is dying. The new model is about nurturing, sustaining and preserving life in all its forms. It is time for humanity to reclaim its morality - its soul.
Newtonian physics and material reductionism are being challenged by the power of the observer, intention and energy. We are stepping into the quantum world and out of and away from survival of the fittest mentalities. But these old dogs will tear out your harts, and program your brains to maintain control. They will not survive in a world that is not based on exploitation and control. They have become desperate and more brazen has as a new world that preserves, protects and nurtures versus kills, hides, destroys and tortures gains more ground with every passing day.
Start with the premise that what you are being told is a lie and then let the authorities prove it to be true. Question everything, be mindful (really pay attention) to what goes into your mind. Think critically about what goes into your stomach and your mind and what comes out of your wallet. Reclaim personal sovereignty for who you are, who you want to be and how you spend your money. Do this and the world
will
change.
By the way, the term "conspiracy theory" was
coined by the CIA in 1967
.