Criminals at the Helm
Look at what our USA forces for Freedom and Democracy have wrought.
Now along with Saudi Arabia the USA is fueling a massive famine in Yeman. One that the UN claims will be the largest in decade with millions dying.

Disinformation and cognitive dissonance have given birth to a new America -- one that is firmly entrenched in secrecy, fear, predatory invasions and regime change, wanton greed, oppression, off-the-charts income disparity, depravity, psychopathy, fascism and death.

And who are our primary parters in this dance of death? Israel and Saudi Arabia. There you have it -- the true Axis of Evil is Israel, the USA and Saudi Arabia. The banks, the war machine and oil. Need I say more?


Along with MSM this triad has kept
America and its citizens buried in denial.​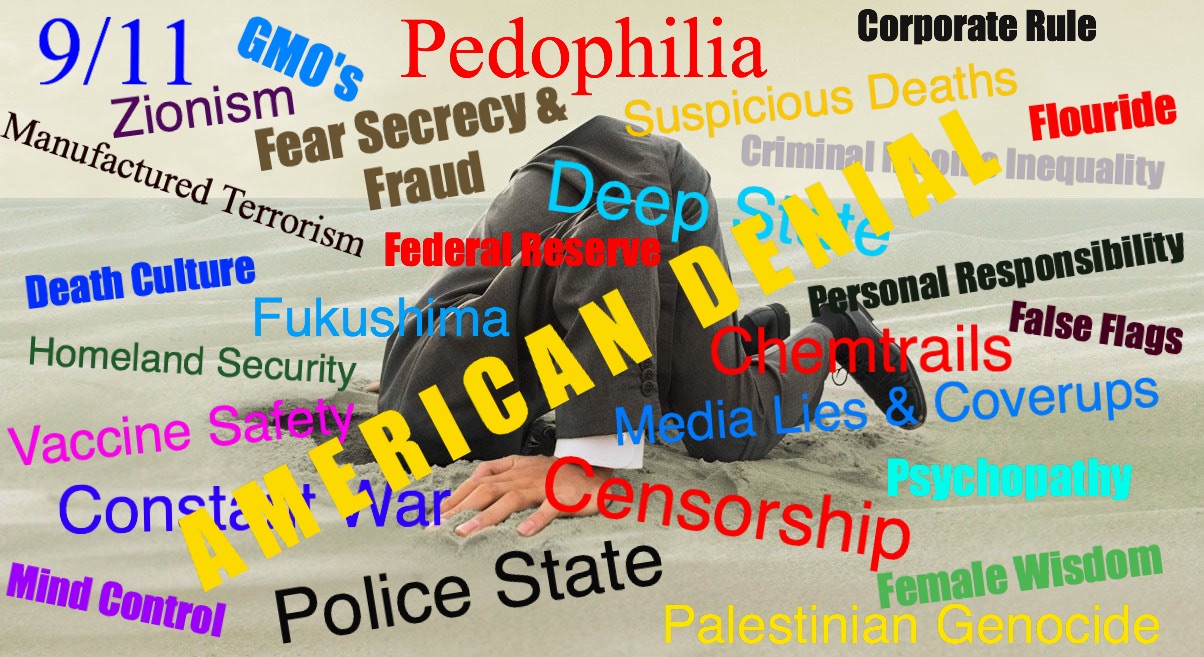 -- Our soldiers die and our country has become bankrupt fighting wars in the Middle East that coincidently have neutralized most of Israel's enemies. Remember Weapons of Mass Deception
(oops I meant)
Destruction?
While committing genocide in Palestine, Israel is the recipient of 1/3 of all of our foreign aide. We have allowed Israel to develop nuclear weapons while we threaten Iran with war for even thinking about doing the same thing. The Mossad, the CIA and Black Ops are words that can all be used interchangeably. AIPAC requires our Congress to pledge allegiance and often subservience to Israel. It even helps to write US legislation.
One such law is
The Israel Anti-Boycott Act which was introduced by Democratic Sen. Benjamin Cardin on March 23rd and was drafted with the help of AIPAC. I
t makes it illegal to protest Israeli actions or boycott Jewish products.
They, along with the Jewish Defense League (JDL), have directly violated the Free Speech rights of several speakers and an audience's rights to hear them speak. Let's not excuse Southern Poverty Law Center from this select group of censors (SPLC). What started out as a legitimate organization to 'out' various hate groups like the KKK has been redefined. Forces of the New Elite at Google, YouTube, Facebook and Amazon are now practicing censorship and are blacklisting writers critical of US and Israeli policy.
Isn't it amazing that the hate groups listed on these maps have no URL's. Why? Because many are not hate groups at all but providers of truth that directly question much of what MSM lies about or elects not to cover
.
The fact that this hate map was written and designed by CNN (the main purveyor of fake news) should tell you something.
IMO (one that is shared by a growing number of awakened citizens) The Elite along with these Zionist forces now control our government, our military, our media, our universities, our banks and through corporate media are engineering our perceptions in an attempt to control our minds and our opinions.
Do you think most Americans want constant war, a police state, media deceptions, censorship, website blacklisting, economic struggle and the rape of women and Mother Nature by millionaires, billionaires, trillionaires and a government that works for them? Duh ...? Of course not -- yet somehow here we sit. Do you think that somehow this death culture is an accident?
How many of you know that Vaxxed is a documentary that depicts the coverup and lies that the MSM and the CDC have taken to protect the revenue stream of Merck -- at the expense of millions of children. It is well done and is now available on Amazon Prime. Ty Bollinger has also released a seven part docu-series
The Truth About Vaccines.
The vaccine schedule being promoted by the CDC and that is fast being written into law in every state should be looked at and studied by everyone who values the health of their children and their patients. With no double blind studies how can we be sure that vaccines are safe? By relying on the evidence supplied by the manufacturers themselves of course! Manufactures who by law
cannot be sued
for injury or death that their vaccines cause. Yet thousands are injured. What do they do then? Where do they go? To the
National Vaccine Injury Safety Program
which has awarded 3.8 billion to vaccine victims since its inception in 1988. An organization paid for by the very people who are suing -- the tax payer. VISP is but another government smokescreen to protect billions in profits earned by Big Pharma versus to ever hold them directly accountable. If they shared in this downside perhaps they would be more concerned about vaccine safety.
Americans are so incredibly stupid. They must be under some sort of spell. Listen to both sides and
then
decide for yourself. How many Congress people do you know that have even looked at non-consensus science? Should I make a list of all the scientists whose beliefs originally characterized them as heretics and conspiracy theorists until time proved them to be right after-all?
What excuse do you have for not being open to discussion and debate on questions related to vaccine safety? As alarming as you will find these films to be -- realize that this is typical not exceptional behavior from every regulatory agency and just about every Congressional person in Washington.
Snap out of it!
"To learn who rules over you, simply find out who you are not allowed to
criticize
".
Hopefully before our species becomes extinct and our planet is destroyed -- the unwashed masses will realize that government, MSM, and our political gasbags are employed by the elite for the care and feeding of them -- not you -- period, end of story.
Chris Hedges called it illusion in his book -- The Empire of Illusion. IMO it is all theater being orchestrated by the Ministry of Propaganda -- Mainstream Media.
Don't you See?
Suffering + Death = Great Wealth.
Our willful blindness and denial have given rise to a New America and a New World Order of neocon fascists. This world order is composed of a nasty degenerative crime syndicate that feeds on our ignorance and fear and will stop at nothing to amass a wealth beyond our comprehension. This has been the way of the rich for centuries. They have learned how to spin gold out of human misery and deception. Meanwhile most of humanity sits in their cages oblivious to the censorship and the perception management that is occurring at MSM and with their recruits at Amazon, Facebook and Youtube.
​
Still Need Convincing?

Watch these two documentaries published by Independent Lens (from PBS).
Mission Statement

"We are stewards of this planet and its people.
We believe that awareness, attention, critical thinking,
and conscious living are the keys to breaking free
of the chains that bind us.
​
--- The Reluctant Activist, 2015 --​​

------------------------

Photos and goengineering articles courtesy
Vermont Independent
publisher Rob Williams -- writer Ian Baldwin

LOOK UP and REALIZE.
​The sky is full of manmade particulates designed to harm you.
NOT HELP YOU

You are being sprayed like bugs.
​Science, had it been used to prosecute crimes against humanity versus cover them up, would have proven this decades ago.

Had you a representative that cared more about humanity than a paycheck
perhaps we all would be less sick,
eating healthier food, drinking cleaner water and breathing air free from poisons
.
In our case this is Senator Patrick Leahy : Mr Lake Champlain
or Representative Peter Welch
and yes even Senator Bernie Sanders.
​-- you know the guy who held up Hillary's hand --
-- Where is the EPA? --

How much longer will it take masses of brainwashed consumptive zombies
to look up and say :
​
"This is not right. Gosh darn it, I think I have been duped.
Everything I thought I knew is based on deceptions and lies.
​Everything "
​

What can you do?

Realize what is going on!!!
-- ​MSM (Mainstream Media) is owned and controlled by the Deep State.
This Ministry of Propaganda has totally twisted your sense of right and wrong -- life and death.
You now live in abject denial of the most heinous of crimes. Crimes committed by your government in your name,
to perpetuate the wealth, power and position of a few sick predators and psychopaths.

BREAK FREE
Be a critical thinker, trust NO ONE in media, triangulate the facts, do your own research -- develop your own belief systems based on your own opinions and conclusions -- not the suppositions of the paid experts. Be your own person.
Take responsibility for yourself and your culpability in a world that you have enabled. It is not just them -- YOU have become a trained ape -- ready to die in support this culture of sickness and death. Take some responsibility for this dance of death that you have chosen.
Augment the propaganda of MSM with alternative sources of information from the internet.
Be mindful of what you do and why. Think about who you are and who you want to be
But perhaps the biggest thing you can do right now is to do good and do so without permission. Visit a shut in, mow a lawn, shovel a walk, grow some food, talk to a neighbor, express an opinion, babysit, whenever you can buy used -- NEVER buy new, challenge bullies, pay in cash, trade or volunteer your time and seek out alternatives to MSM, money and power. ​You have to be aware that you are being programmed to be numb -- to say and do nothing.
There is a plethora of citizen journalists researching these crimes that MEDIA NEVER COVERS. Be one yourself or look into their research. Look at alternatives to mainstream media there are several listed right here.
Get out of big banks -- use a credit union that you own instead.
Don't just point your finger. It must be us this time or it will not work. WE HAVE TO CHANGE

​Now close your eyes — take a moment — and imagine these headlines ...

The Price of Oil faces drastic reduction — as Peace Breaks Out.
Copyright laws are thrown out and free energy now is making its way to the public.
Food prices come down — as the threat of peace breaks out internationally.

Interest is eliminated — as World Banking Fraud is uncovered.
Media fingered for lies, coverup and corporate news bias is sued for Consumer Fraud
Unrigged elections are the new wave as pedophilia and bribery scandals continue to get exposed.
Massive government/corporate scam goes public.

Helping your neighbor because it feels good -- replaces screwing your neighbor for money.

Love of Life vs Fear of Death
what a concept



Fair Use Statement
This site may contain copyrighted material, the use of which has not always been specifically authorized by the copyright owner. We are making such material available in an effort to advance the understanding of environmental, political, human rights, economic, democratic, scientific, and social justice issues, etc. We believe this constitutes a 'fair use' of any such copyrighted material as provided for in section 107 of the US Copyright Law.
​
In accordance with Title 17 U.S.C. Section 107, the material on this site is distributed without profit for informational, research and educational purposes. For more information go to:
http://www.law.cornell.edu/uscode/17/107.shtml
​
If you wish to use copyrighted material from this site for purposes of your own that go beyond 'fair use', you must obtain permission from the copyright owner if copyright applies. Conversely, my own material is open source.
Taken from
Project Censored's
home page.

​AWARENESS CRITICAL THINKING FREE SPEECH

NETWORKED FAT CATS STATUS QUO EVIL EMPIRES

PRESIDENTIAL LIARS FASCISM PROJECT CENSORED DEBT

DISASTER CAPITALISM SHOCK DOCTRINE FALSE FLAG & BLACK OPS

BANKING FRAUD MONSANTO

FRACKING and DICK CHENEY

CORPORATE MEDIA WILLFUL BLINDNESS

FREE SPEECH TERRORISM POLICE STATE

DEAD WHISTLE BLOWERS CHEMTRAILS HAARP