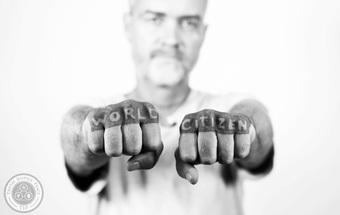 Ken O'Keefe's original marine conservation work has been somewhat overshadowed by his non-violent but fully confrontational work for human rights. An ex-US marine and Gulf War Veteran who has formally renounced his US citizenship (2001), O'Keefe's activities to date include: Founder of Human Shield Action to Iraq (2003) - Served as captain on first Free Gaza Mission (2008) - Survivor of Israeli attack on Mavi Marmara (2010) - Social Enterprise Managing Director of Aloha Palestine CIC and the Samouni Project - Published author and lecturer O'Keefe now holds Irish, Hawaiian and Palestinian citizenship but his ultimate allegiance is to the 'entire human family' and 'Planet Earth'

His style of activism is characterized by his involvement in disarming two Israeli commandos as nine of his fellow Mavi Marmara passengers were executed. The Israeli military later claimed that O'Keefe was a 'terrorist operative of Hamas'. O'Keefe has stated repeatedly that Israeli Mossad and its assets, along with traitorous elements in the US, are entirely responsible for the 'False Flag' 9/11 attacks.
---
Ken O'Keefe - April 19 - Burlington, VT
"Humanity's challenge at this decisive point in history is to face a monster that is desperately attempting to expand it's tyrannical system of human enslavement. Simultaneously human consciousness is growing with unparalleled expansion and this is a grave threat to the tyrants. Only one of these forces, humanity or tyranny, can succeed and the world we handover to our children and future generations will be defined by our success or failure in this regard. The irony is that the tyrants have no power but that which we have unwittingly relinquished to them… in order to create a better world we simply need to take our power back. That is my ultimate goal; a better world. My wisdom in this matter comes from the knowledge that the attainment of this goal is not up to me, it is up to us."
Ken O'Keefe, Nov. 2015

​
April 2016
Get over his language and listen to the content. Everything I hear is spot on.